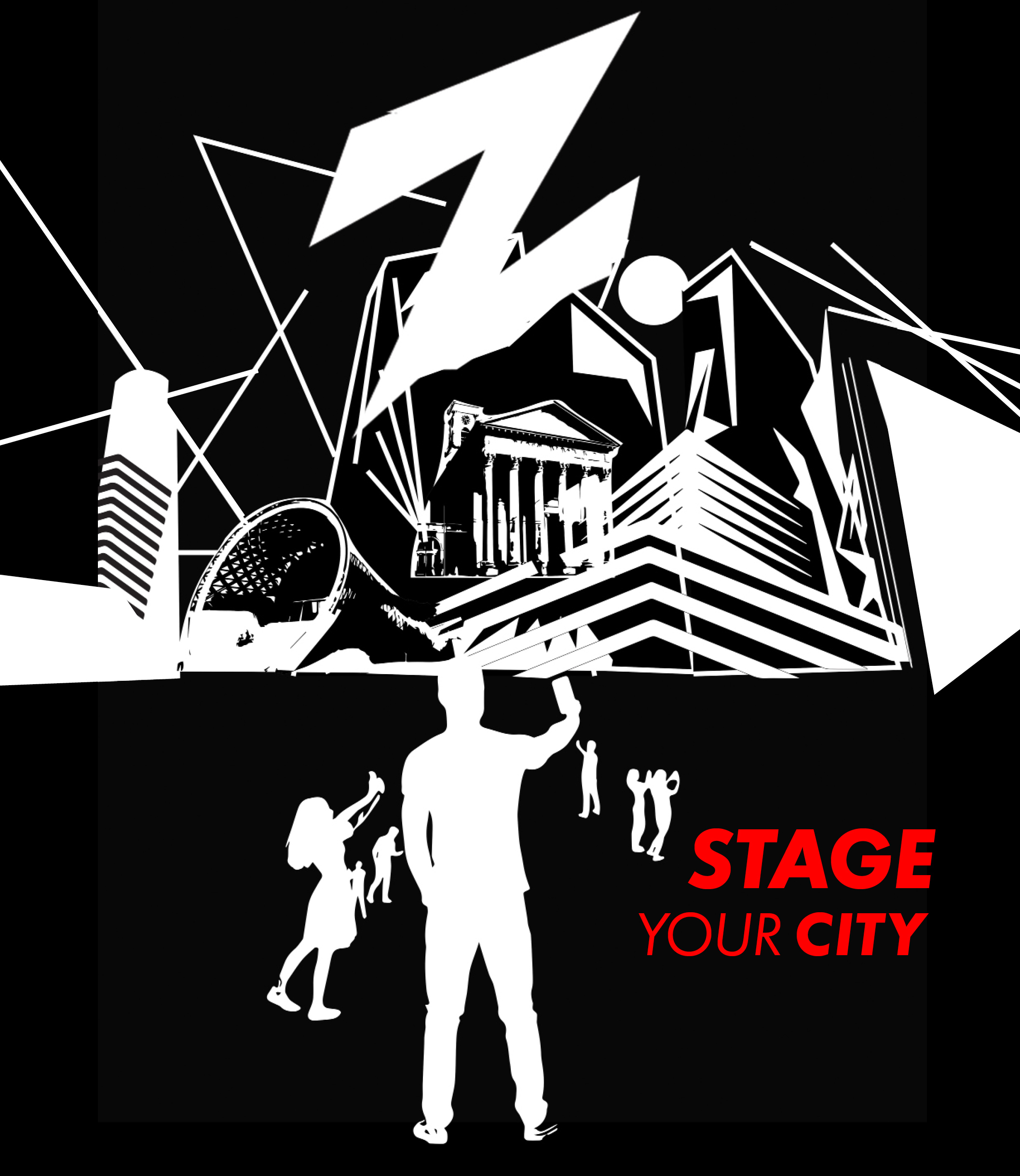 ZIGMAGORA IS CALLING
2018 – Internet, mobile and connected devices, geolocalisation: they create new forms of interaction and new habits. We all experience this change, day by day. In view of the multiple deregulations in the world (economic crisis, climate change, migration and war), recently a new stage of industrialisation has developed, going through a total encoding of the material and symbolic goods of human activities. This new data economy promises endless new possibilities and the reduction of global incertitude. It establishes itself like a new Eldorado. It is dominated by the giants of information that we all know.
2052 – Coming from the future, four experts tell us about the future of mankind: A calm world under control. Human activity is efficiently managed by artificial intelligence. The algorithmic rationality takes care of a pleasantly regulated and soothed social life. (Moreover, a general common narrative of human history has been imposed on everybody.)
But in this dystopian world, nothing works anymore. Apart from the speed of information transmission, the accumulation of data and the controlled city that has become perfectly safe, Zigmagora is witness of a world without emotion and affect. Mission to us: recover lost emotions, values of brotherhood and traces of humanity. Humans do not have feelings any more, no more love. To save what can be saved, Zigmagora comes back to that very moment when it all began and confides an essential mission to each of the people present: find the lost emotions again, follow the traces of humanity, the values of brotherhood, sharing and equality. For this, we are invited to roam the city, but the dilemmas are numerous. Since the emotions and feelings are linked to the choices we make in our relations to beings, things and places, will we be able to transform Zigmagora's world, our future? And if so, in which manner?
WHAT WHERE WHEN?
STAGE YOUR CITY invites you not only to a digital exploration of the city but also to an emotional walk through human values.
1. INSTALLATION. Here you encounter four experts from a perfect and cold society in 2052, run by machines and artificial intelligence. You learn about your task: Make this dystopian future world a livable place again. To do this, you have to collect and chose traces of humanity in the present and send it to the future.
2. CITY WALK. Divided in in 4 groups you are sent out in the streets of your city. You have your smartphone and earplugs with you. Guided by the App ZIGMAGORA, you walk to 4 stations, listen to texts, take photos, encounter strange characters, chose music, and solve dilemmas. Love, health, identity, surveillance – what about these topics will be important to us in the future? Your choices and collections count.
3. THEATRE. Back in the the theatre, you will encounter the final dilemma… (yourself!). …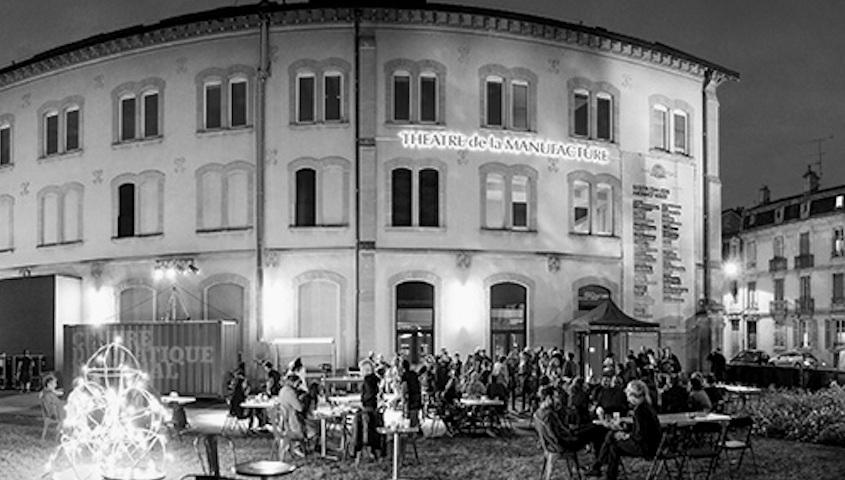 NANCY,

FRANCE
Théâtre de la Manufacture
12 – 20 April 2018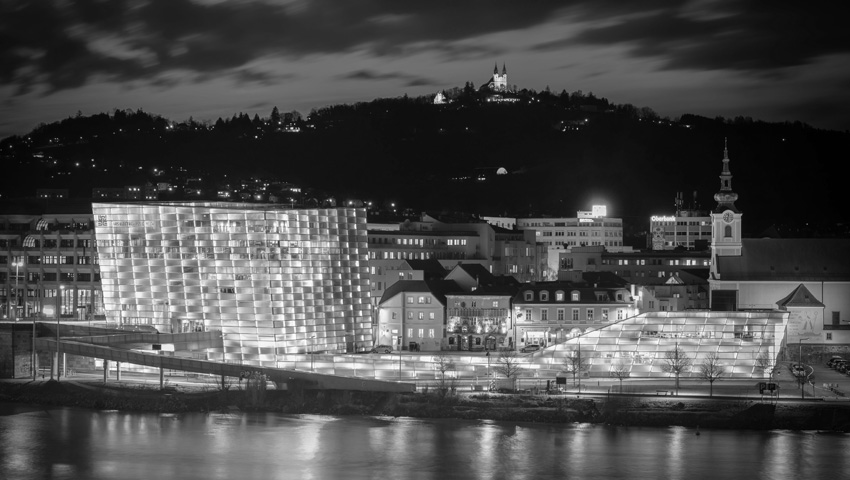 LINZ,
AUSTRIA

Ars Electronica Center
7 September 2018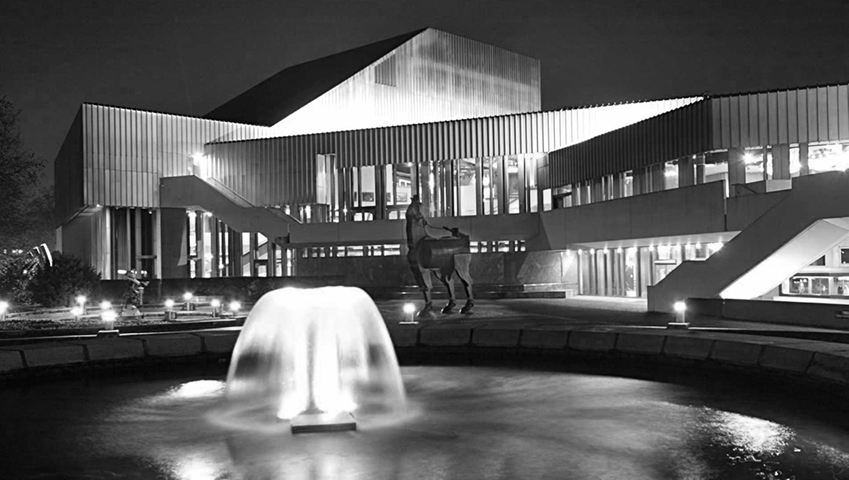 KARLSRUHE,
GERMANY
Badisches Staatstheater
29 & 30 June, 1 & 15 July, 9 & 15 November 2018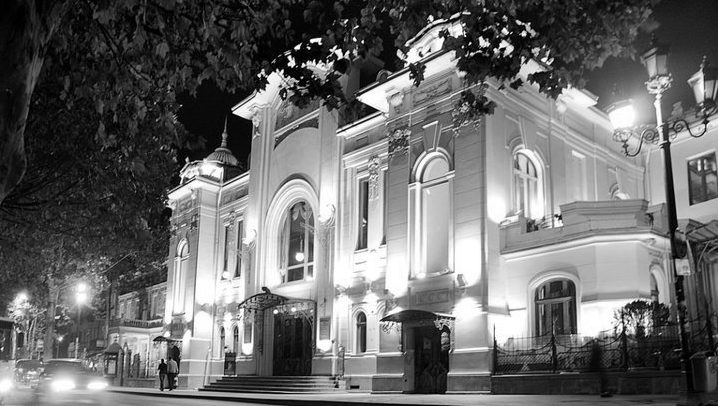 TBILISI,
GEORGIA
Kote Marjanishvili State Drama Theatre
27 September 2018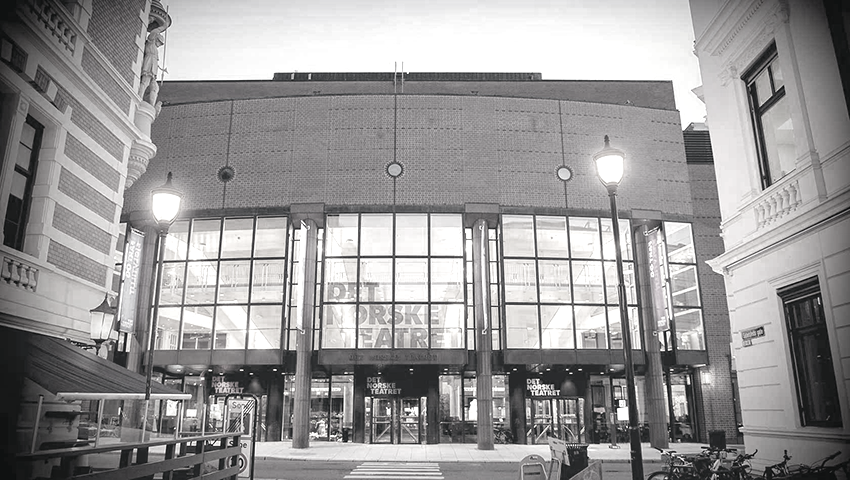 OSLO,
NORWAY
Det Norske
Teatret
June 2018
BE PART OF IT: 3 STEPS TO THE SHOW
3.

Br
i
n
g your 
smartphone a
nd earplugs to the show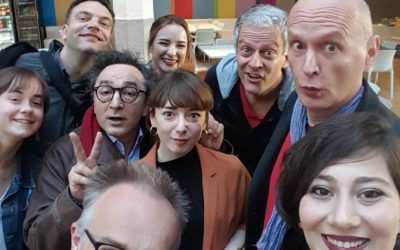 Actors, dramaturgs, artists and one director from three countries united in the ZKM | Center for Art and Media in Karlsruhe at the shooting of various sequences for our new app Zigmagora. Our partners Moritz Büchner and Andy Koch made it possible and were creating not...
PARTNERS

Stage Your City is a project of the partner theatres Centre Dramatique National Nancy-Lorraine (F), Badisches Staatstheater Karlsruhe (DE) and Kote Marjanishvili State Theatre Tbilisi (GE), coproduced by the European Theatre Convention (ETC) as part of the European Theatre Lab: Drama goes digital. The European Theatre Lab is co-funded by the Creative Europe Programme of the EU.
Associated partners: ZKM / Center for Media and Art, Karlsruhe (DE), Prestige Film Karlsruhe (DE), Bruno Cohen, Nancy (F), Chris Ziegler, Arizona State University / School of Arts, Media and Engineering (USA), WANDIO Tiblisi (GE).
European Theatre Convention e.V.
c/o Deutsches Theater
Schumannstr 13 A
10117 Berlin, Germany
T: 0049 30 28441 402
F: 0049 30 28441 488
convention@etc-cte.org 
www.etc-cte.org
Represented by
Serge Rangoni, President
Heidi Wiley, Executive Director 
Entry in the register of associations
Registration office: Amtsgericht Berlin Charlottenburg
Register number: VR 36068 B 
Tax identification number
27 / 664 52 / 636
Responsible for the content according to § 55 Abs. 2 RStV:
Théâtre de la Manufacture
10 rue Baron Louis
BP 63349
54 014 Nancy Cedex, France
contact@theatre-manufacture.fr 
Badisches Staatstheater Karlsruhe
Hermann-Levi-Platz 1
76137 Karlsruhe, Germany
kommunikation@staatstheater.karlsruhe.de 
Kote Marjanishvili State Drama Theatre
Kote Marjanishvili Street N8
Tbilisi , Georgia
info@marjanishvili.com 
References for the used pictures and graphics
Black and white graphics: Chris Ziegler 
Photo CDN La Manufacture: Jérôme Baudouin
Photo Badisches Staatstheater Karlsruhe: Badisches Staatstheater Karlsruhe
Photo Kote Marjanishvili State Drama Theatre: Kote Marjanishvili State Drama Theatre
Photo Det Norske Teatret: Det Norske Teatret
All other photos: © ETC 
Layout/Coding: Vimonda Berlin www.vimonda.com
Disclaimer
Liability for contents
As a service provider, we are responsible for our own content on these pages according to § 7 Abs. 1 TMG (German Telemedia Act) according to the general laws. According to §§ 8 to 10 TMG, however, we are not obliged as a service provider to monitor transmitted or stored third-party information or to investigate circumstances that indicate illegal activity. Obligations to remove or block the use of information in accordance with general laws remain unaffected by this. However, liability in this regard is only possible from the time of knowledge of a concrete infringement. If we become aware of any such violations of the law, we will remove these contents immediately.
Liability for Links
Our offer contains links to external websites of third parties, on whose contents we have no influence. Therefore, we cannot assume any liability for these external contents. The respective provider or operator of the pages is always responsible for the contents of the linked pages. The linked pages were checked for possible legal infringements at the time of linking. Illegal contents were not recognizable at the time of linking. However, it is unreasonable to expect a permanent control of the contents of the linked pages without concrete evidence of a violation of the law. If we become aware of any legal infringements, we will remove such links immediately.
Copyright
The contents and works on these pages created by the site operator are subject to German copyright law. The duplication, processing, distribution and any kind of exploitation outside the limits of copyright law require the written consent of the respective author or creator. Downloads and copies of these pages are only permitted for private, non-commercial use. Insofar as the content on this site has not been created by the operator, the copyrights of third parties are respected. In particular, third party contents are marked as such. Should you nevertheless become aware of a copyright infringement, please inform us accordingly. If we become aware of any infringements of the law, we will remove such contents immediately.